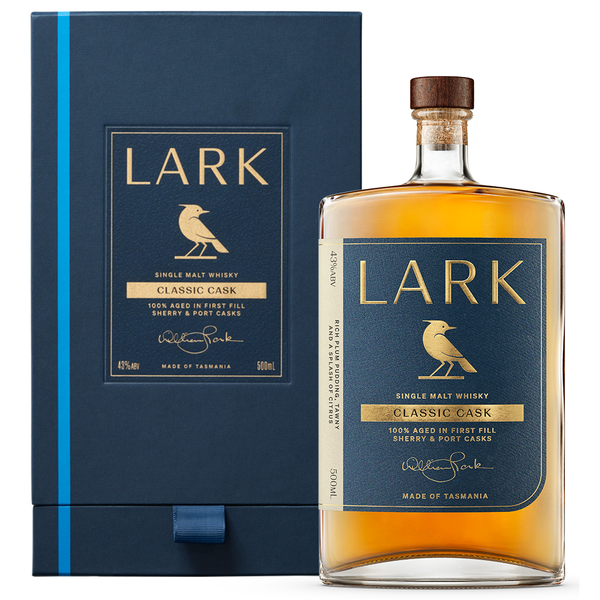 Tradition redefined. A New World whisky with a story to tell. From where our story began, where the whisky rules of old were rewritten to make way for new traditions. Double-distilled and aged in a considered selection of small casks, this is a labour of love steeped in both heritage and curiosity. Each sip of LARK Classic Cask celebrates the time-honoured art of distillation, our rich legacy and the rebellious spirit of Tasmania.  
Handcrafted at our Coal Valley Distillery, Classic Cask 43% is a true labour of love from the second it leaves our stills to the moment the cork is popped. It features the citrus and rich plum pudding of the LARK house style with a hint of Tasmanian peat. Based on the original recipe from founder and Pioneer Bill Lark, and a whisky home to over 20 awards and international medals.
Born from rebellion and revelry, Classic Cask learned the rules, and broke them. This is where it started, it's approachable, with a complex edge. This award-winning bottle in The LARK Signature Collection is signed by Founder Bill Lark, representing his mark on the new world of whisky. 
Brewed by hand and distilled with the intention of producing a heavy and viscous palate structure.  Double-distilled and aged in a considered selection of small casks. For the connoisseur, the collector and the just curious, at any stage of your journey into the whisky world, Classic Cask is enjoyed by all. The benchmark of LARK single malt.
A harmonious balance of sweet, spicy and savoury elements make this the perfect dram for whisky-lovers at all stages of their whisky-drinking journey.  An approachably exceptional classic for the connoisseur, the collector or the curious. Best enjoyed by anyone, any way you like.