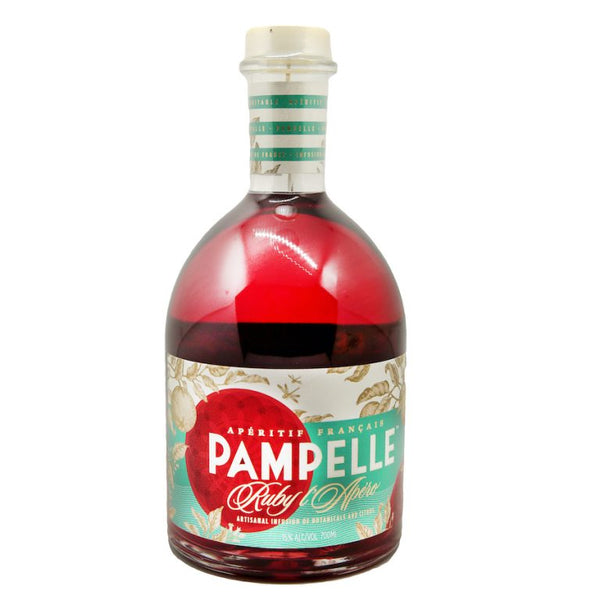 Seven things to know about Pampelle:
Ruby-red:

 

The hero of this complex aperitif is the Star Ruby Red Grapefruit, responsible for its sweetly bitter disposition.
Grown in Corsica: Our grapefruits are handpicked from the sun drenched, French island of Corsica, nestled in the idyllic Mediterranean Sea.
Distilled three ways:

 

Our grapefruits are halved and macerated at length until full extraction occurs. To enhance the natural citrus aromas, we distill a portion of the grapefruit maceration through copper pot stills. Our rubies are pressed and reduced until they become a deep, velvety red.
Citrus infused:

 

We separately macerate high quality citrus peels, sourced from around the world including Yuzu from Japan, Cedrat from France and Bigarade from Haiti
Blended with Botanicals:

 

Batches are blended with Cinchona tree bark quinine, natural Gentian bitters and our signature Eaude-Vie, made from grapes that have been fermented and distilled through column stills.
Refined in Cognac:

 

Pampelle is refined on the banks of the River Charente in Cognac where every bottle is stamped with the seal of a Damselfly, a protected native species.
Bitter-sweet but not sugary: Pampelle is 30% naturally lower in sugar than other leading Spirit Aperitifs
Pampelle is fantastic and versatile to mix in cocktails. Signature cocktails include:
Pampelle Spritz:

 

2 parts Pampelle, 3 parts Prosecco, 1 part Soda Water,

 

add plenty of ice, garnish with a slice of Ruby Red Grapefruit.
Ruby Rose:

 

1 part Pampelle, 3 parts Dry Rosé, 1 part Soda Water,

 

add plenty of ice, garnish with a wedge of Ruby Red Grapefruit.
French Negroni:

 

1 part Pampelle, 1 part Gin, 1 part Vermouth Blanc (sweet)